Come Out to the Vineyard!
Come Out to the Vineyard!
Our tasting room is open Friday-Sunday, 11am-5pm
Zarpara Vineyard is tucked under the Dos Cabezas Mountains in the sky islands of southeastern Arizona. Just a 15 mile drive south of Willcox, our wine tasting room and winery are situated right here at the vineyard and it's a beautiful setting for tasting our 100% estate wines. When you come, you might want to take a stroll in the vineyard. Or bring along a tasty picnic to enjoy with a bottle of Zarpara wine on the outdoor terrace!
We love European-style wines! Especially those found along the Mediterranean. So quite naturally, dry earthy reds are our specialty. You'll find Spanish, French, and Italian varietals on our menu, as well as some tantalizing blends.
We also pour one or two delectably crisp whites, a wonderfully delicate dry rosé (while it lasts!), and sometimes a surprise like our yumstrous port-style dessert rosé. All of our wines are grown and produced right here. Made with Arizona sunshine, of course!
We can also ship wine to your front door and we hand deliver to Arizona addresses in the Willcox-Tucson-Phoenix corridor. Get the details.
Zarpara Vineyard is located on the Willcox Bench, a premier wine growing region nestled beneath the Dos Cabezas Mountains in Cochise County, southeastern Arizona. Just a few miles south of Willcox, this area is responsible for the larger part of Arizona's grape production. We cleared a parcel to plant our vines and then opened our winery and tasting room in January, 2012. See the About page for more information about us.
We are high elevation here at 4200 feet so temperatures are usually cooler than the metro areas of Phoenix and Tucson.
We typically have plenty of indoor seating available and also outdoors on and around our covered patio which has amazing views of the vineyard with the mountains in the background. Please pay attention to the weather.
Most of our wine tasters are walk-ins, but if you want to ensure either indoor or outdoor seating, please make a reservation to let us know you are coming. Indoor group size is limited to 6 people.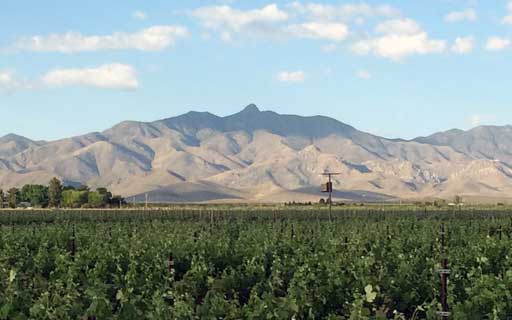 Directions to Zarpara from Willcox:

(Start by following signs to Chiricahua National Monument).


Take Hwy 186 east (south out of Willcox) for 6 miles.
Turn right at Kansas Settlement Rd, travel 6 more miles.
Turn left at Arzberger Rd (past Robbs Rd). Look for the ZARPARA sign at the corner. Travel 2.5 miles.
Turn left at Lucky Lane (roads are all paved to this point).
Follow the signs to Zarpara Vineyard - this last bit is on a well-maintained dirt road.