Zarpara Vineyard in the News

Zarpara is on the List
VacationIdea.com Dream Vacation Magazine
---
Zarpara makes it onto VacationIdea.com Dream Vacation Magazine's Top 16 Things to do in Willcox and Top 25 Arizona Wineries lists. Thank you! They obviously know what they are talking about :-)
Guest Weather Reporter
Phoenix Fox 10 News, January 2, 2019
---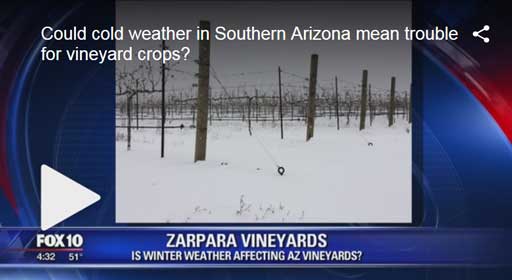 Could cold weather in Southern Arizona mean trouble for vineyard crops?

Rhona is interviewed on Phoenix Fox 10 News, and reassures listeners that the vines are happily asleep beneath their winter blanket.
Zarpara Syrah Gets Some Love
The Wine Monk, Arizona Wine Blog, November 18, 2018
---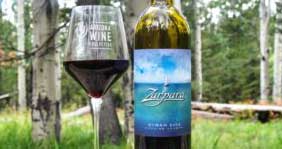 "The 2013 Syrah from Zarpara is one of my favorite Syrah vintages to be found in the state currently. With a rich, satisfying and velvety mouthfeel, this is a Syrah that begs to be enjoyed languidly for an evening".
Zarpara Sangiovese Gets a Nod
Saddlebag Notes (Saddlebrooke), October 30, 2018
---

Tom Oetinger talks about Italian wine in this Saddlebags article, and also points out how wineries closer to home are producing excellent ~local~ Italian varietal wines.
Zarpara Vineyard is a Great Place to Enjoy Arizona's Fall Season
YurView Arizona, October 29, 2018
---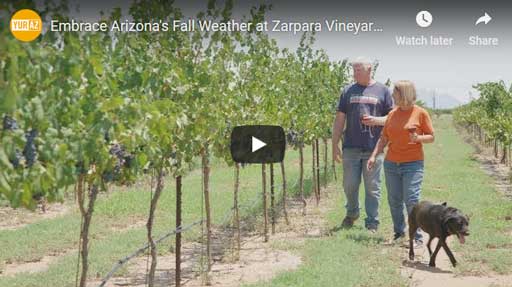 Willcox is home to the Zarpara Vineyard, a great place to savor their wines while enjoying Arizona's fall colors.

You might have seen this on one of your Cox cable channels.
Zarpara Wines Gets Some Attention
Wine Spectator, August, 2018
---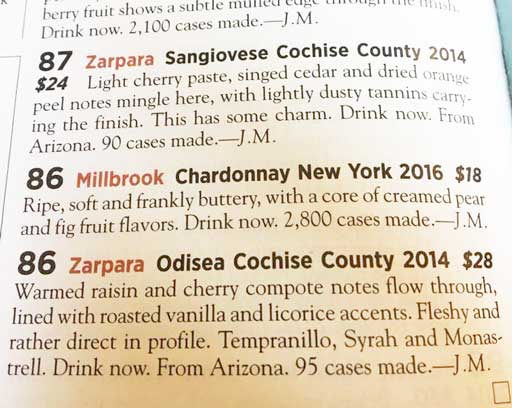 We sent a couple wines to Wine Spectator, the first time we've done that. We were a little jittery because WS is kind of like, you know, "big time". Our friends at LDV winery saw this first and sent us the photo. Wow!

Sangiovese 2014 - 87 points.
Odisea 2014 - 86 points.

Wine Spectator says "drink now". We agree!
Top 10 Wineries in Arizona
AZCentral.com, August 18, 2014
---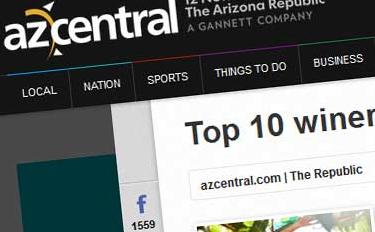 Zarpara Vineyard makes the AZCentral Top 10 List of Arizona Wineries.