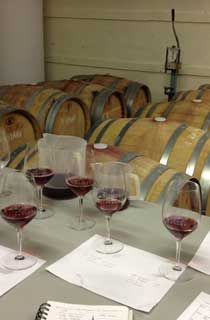 Zarpara Vineyard Wine Club

We have the best Wine Club in the universe, maybe even the multiverse! So sign up to make sure your cellar is stocked up with your favorite Zarpara wines even when you can't make it out to the tasting room!
Why Join the Club?
Discounts on all wine purchases
Invitations to special wine club events
Exclusive access to library wines
First in line for all new releases
Complimentary wine tastings
Wine Club membership is free!
How it Works
Sign up, pick your membership level, purchase that number of bottles of wine, and you are in! Then, twice a year - Spring and Fall - Rhona and Mark select the wines for the wine club, and email members about their upcoming shipment. Wine club members may make substitutions if they wish. The wine is shipped to members, or members can choose to pick up the wine in the tasting room or at wine club events or arrange for hand-delivery.
How to Sign Up
Call Rhona at 602.904.3088
Or email rhona@zarpara.com
Or fill out the sign up form and mail to
Zarpara Vineyard
6777 S Zarpara Ln, Willcox, AZ 85643
or email it to rhona@zarpara.com.
Three Membership Levels
Botella Club

3 bottles in each shipment (6 bottles per year)
10% discount on all Zarpara wine purchases
4 complimentary tastings at the tasting room
Per shipment price estimate $60 to $80 (plus tax and shipping)
Caso Club

6 bottles in each shipment (12 bottles per year)
15% discount on all Zarpara wine purchases
8 complimentary tastings at the tasting room
Per shipment price estimate $125 to $150 (plus tax and shipping)
Barril Club

12 bottles in each shipment (24 bottles per year)
20% discount on all Zarpara wine purchases
12 complimentary tastings at the tasting room
Per shipment price estimate $225 to $275 (plus tax and shipping)
Restrictions
Members must be at least 21 years of age
We only ask for a minimum one year commitment (that is, 2 shipments)