Pickers Page at Zarpara Vineyard
Pickers Page at Zarpara Vineyard
Welcome to the Pickers Page at Zarpara Vineyard!

Use this page to see how the grapes are ripening this season.

If you are on the pickers email list, look for emails announcing upcoming picks and follow instructions there to let us know you are going to join a pick.

Please be aware that for some picks we bring in the pros. Don't be bummed. There are plenty of grapes out there!


Brix Tracking
There are 7 grape varieties in our vineyard and they ripen at different times, so there are at least 7 picks each year. A grape variety might get a double dip, like Tempranillo this year, which gets one pick date (early) for a rosé and another pick date (later) for the red wine.

We test Brix (sugar content) periodically in the different grape varieties and then more frequently as ripening closes in on the Target Brix.

These are the remaining picks for this 2023 season. (Last update: Monday 9/25).
| Grape Variety | Target Brix | Last Brix | When | Projected Pick Date |
| --- | --- | --- | --- | --- |
| Sangiovese | > 25 | 25.6 ↑ | 9/25 | Pro pick 9/28 |
| Monastrell | 25 | 23.8 ↑ | 9/25 | 9/30 |
These grapes have been picked so far. Yay!
| Grape Variety | Pick Date |
| --- | --- |
| Sauvignon Blanc | 8/8 |
| Tempranillo Rosé | 8/20 |
| Viognier | 8/23 |
| Syrah | 9/2 |
| Tempranillo Red | 9/3 |
| Graciano | 9/9 |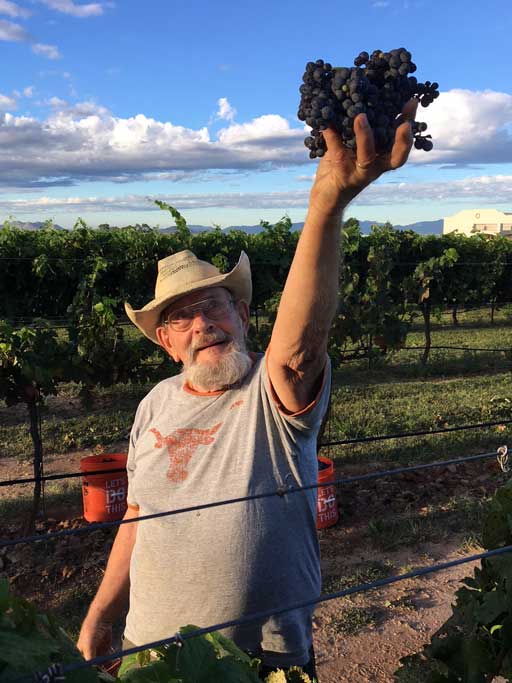 Brix Blabber
This 2023 growing season started out chilly and by the end of June we were wondering if we were ever going to see daytime temps reach 100 like they usually do. We should have left well-enough alone because that's when someone remembered to turn the oven on and it was hot hot hot during July and into August.

The thing is, cool weather slows down the ripening process while warm weather speeds it up. That is, unless it gets too hot and then the grapevines say, whoa, we're all going to take a nap until it gets cooler, maybe talk to us this evening, so that slows down ripening too.

The monsoon storms mess with us now that they have finally arrived. The Brix (sugar content) in the grapes goes up on dry days and goes down after rainy days.

Somewhere along the line, the sugar reaches the content we want and then we make wine!